We're glad you asked. Honestly, a lot comes down to what you're after and the size of your group. We put our research caps on to get some data on Black Hills cabins versus the hotels in the area. Let's take a look at the numbers.
Big groups benefit most from Black Hills cabins.
We see a lot of big groups from family trips, friends trips, bachelorette parties, celebrities and the stage crew, work groups, you name it. For example, let's say your family is planning a trip to the Black Hills. There's you, your spouse, children, and grandchildren for a total of 20 people. You'd like to come for 5 nights in the middle of July.
Staying at a hotel:
You get a rate of $224 per night for a double queen room at a nice hotel in Deadwood. (We really price-shopped to find an affordable but nice option.) You've got a pool and hot tub. Awesome. Fees are another $125.80. You'll need at least 5 rooms, if grandma and grandpa don't mind sharing a room with a couple kiddos. All in, you're at $6,229 for the trip, or $311.45 per person. (Have you heard? Hotel prices are soaring.)
Staying at a cabin rental:
You stay at The Fireside, built in July, for $800 per night. The cleaning fee is a one-time $250. You've got a pool, fire table, deck, your own hot tub, a yard, pretty views, and privacy from the neighbors. There's also shared living spaces where you can all spend time together. Best of all, no one has to bunk with the kids. All in, it's $4,250 for the group or $212.50 per person. That's a new luxurious cabin for substantially less than a hotel. (You're also entered to win our Free Stay Giveaway, for a chance at a paid vacation!)
Save on meals in Black Hills cabins.
Let's keep the scenario going. If your hotel has a continental breakfast, you'll only need to eat out twice per day. There are some unbelievable sit-down restaurants in Deadwood and across the Black Hills! However, we all know it's cheaper, and sometimes better, to eat at home. You've got access at the cabin to a high-end gas grill and a brand new kitchen included in the cost. You can still eat a few meals out, if you want, and still easily save hundreds of dollars, before drinks. You'll also probably feel a lot better not eating fried food the entire trip. We've all been there.
Enjoy family time in shared spaces.
When you're at a hotel, you'll have to pack your day full of activities to do together. While that's great, it can also be a little exhausting. Not to mention, pricey. Cabins a good alternative because you can come back at any time and kick back in the shared living areas, kitchen, and a hot tub you don't have to share with one hundred other people. It's another way to save money, too, by not having to be on-the-go, paying for activities, during every hour of daylight, in order to maximize your time together.
Get the best of both.
We're honored to manage some truly incredible hotel-style vacation rentals in Hill City and Deadwood! These have a full kitchen in each unit, well-equipped for cooking lavish meals, and the larger units are ideal for hosting a group.
McGregor & Main offers studio, one bedroom, and three bedroom vacation rentals. Each unit is beautifully designed and decorated, with a private balcony overlooking Main Street or a quaint residential neighborhood to the alley. Keep in mind, this is a brand new building in Hill City, scheduled for completion this June!
In contrast, The Bank Hotel Deadwood, has existed for more than a century, originally opened as the Black Hills Trust & Savings Bank in the days of Seth Bullock, Poker Alice, and Potato Creek Johnny. However, it's been renovated into a stunning upscale building featuring one-of-a-kind vacation rentals overlooking Outlaw Square in the heart of historic Deadwood. These Black Hills vacation rentals are wonderfully suited to enjoying the amenities from home in an unbeatable downtown location.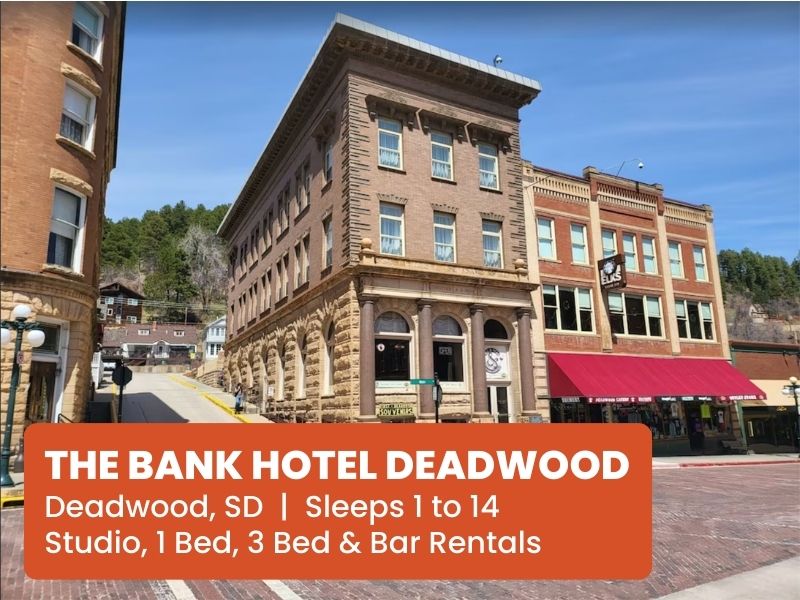 Cabin or hotel, you can't go wrong when you find a place that excites and inspires you. We hope this helps for your next group trip to the Black Hills! We'd love to be your choice for your Black Hills cabins or hotel-style experience.