October signals a major transition in the Black Hills. It's that magic window between summer and winter when you can experience comfortable temperatures, solitude on the trails, and the mountains in color. Additionally, our cabins enter off-season pricing and many restaurants and attractions adjust their costs too. That's why, if you're looking to live like a local, October is the time to do it. Here's what you should know about the Black Hills in October.
Does it snow in the Black Hills in October?
Essentially, temperatures range in the 50s, dropping into the 40s or up to the 60s. Because of the waning temperatures, an occasional snowfall isn't uncommon, especially toward the end of the month. Usually, it's the best of both worlds where the summer heat is gone but we haven't yet entered winter weather!
What to wear in the Black Hills in October?
Bring your cozy fall gear! It's the perfect weather for light layers like chunky sweaters, hats, boots, and jackets. Basically, it's socks with sandals weather. Get our free Black Hills fall packing list >>
What is there to do?
Hit the Trails
There's no better time to explore the mountains! Our rugged range has it all from fragrant evergreens, granite peaks, and sparkling lakes. Here are our favorite hiking trails >>
Mining Tours
These guided tours take you underground to see the authentic work of early miners who settled in these rugged mountains. See the cool, dimly lit tunnels and hear stories of the prospectors who once worked in the mines. That's what makes this an educational, immersive experience, perfect for kids and families.
R&R
Next, head south to Hot Springs for the ultimate spa day. Our favorite, Moccasin Springs, offers great massages and several hot mineral pools where you can soak the day away. Alternately, Akela Spa in Deadwood is another favorite, with an outdoor garden oasis of saunas and a hot tub.
Enjoy Great Food
These charming mountain towns are home to some incredible celebrity and James Beard nominated chefs! In fact, there's also an impressive selection of gluten free options.
Events in the Black Hills in October
Wednesdays – Trivia Night at Dakota Point Brewing, LLC
Saturdays – produce shopping at Black Hills Farmers Market
Sundays – Jazz Branch at Aby's Feed & Seed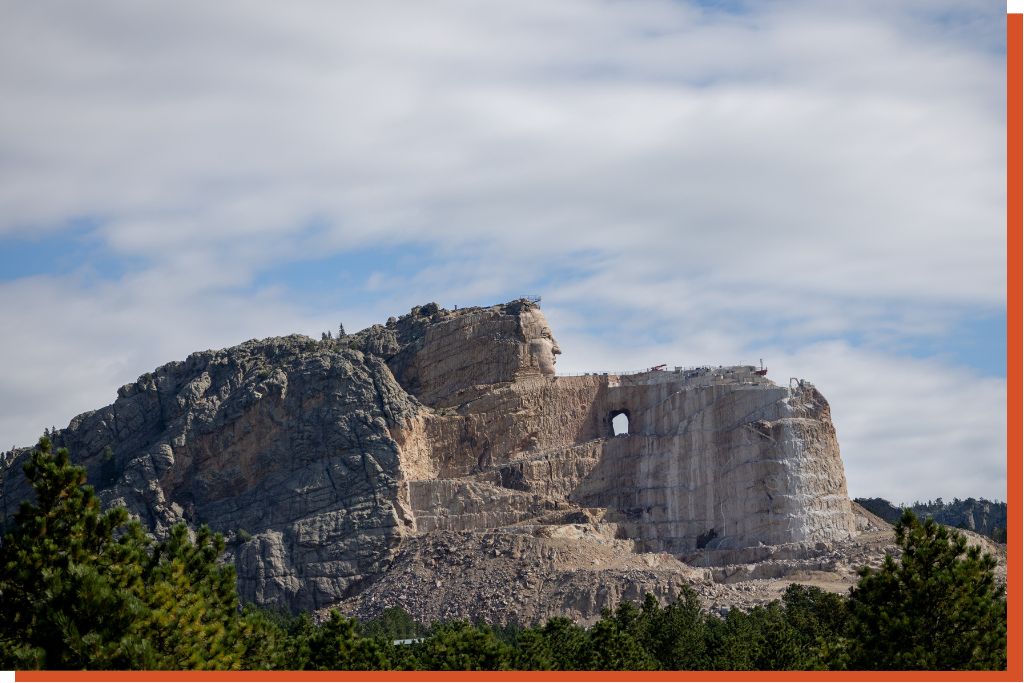 Volksmarch
First on our list, the Crazy Horse Volksmarch is the biggest organized hike in the United States with up to 15,000 participants! However, come prepared, as it takes two to four hours to log this six mile hike.
Oktoberfest
Next up, dawn your lederhosen and join us for the largest German celebration in the area featuring Wiener Dog Races, Beer Barrel Games, a Poker Run, and German cook-off.
Deadweird
Next, Halloween in Deadwood is for those who like to have a good time. Ideally, you come in a clever costume and take home your share of $10,000 in prizes.
Concerts in the Black Hills in October
This area is a hidden gem for local bands and travelings acts. In fact, there's usually something big at The Monument in Rapid City, The Deadwood Mountain Grand, Outlaw Square in Deadwood, Saloon #10 in Deadwood, Aby's Feed & Seed in Rapid City, the 445 in Rapid City, or The Custer Beacon.
We think you'll like it here! As always, let us know if you have any questions.