Lorelai Gilmore said it best, "I smell snow." When you visit the Black Hills in November, there's a distinctive hum in the air. It's an excitement for skiing, seasonal cocktails, and the friendly mix of fall and winter coming together. Read on to see the best reasons to visit the Black Hills in November and our recommendations while you're here.
What to wear in the Black Hills in November?
Most locals dress warm and casually this time of year. It's the perfect opportunity to show off your favorite knit sweater, hat, and warm boots. Something many people forget is a good lotion. The frosty air is less humid than you'd think and a conditioning balm goes a long way after spending time outdoors. Additionally, don't forget your coat. The average high is about 41 degrees but the views make up for it. Get our free Black Hills fall packing list >>
Does it snow in the Black Hills in November?
Oh yeah, it can! In fact, we've already seen a light dusting this year. Generally, we don't see a lot of snow in November but, of course, it's always possible. It's best to be prepared with supplies and have four-wheel drive, just in case.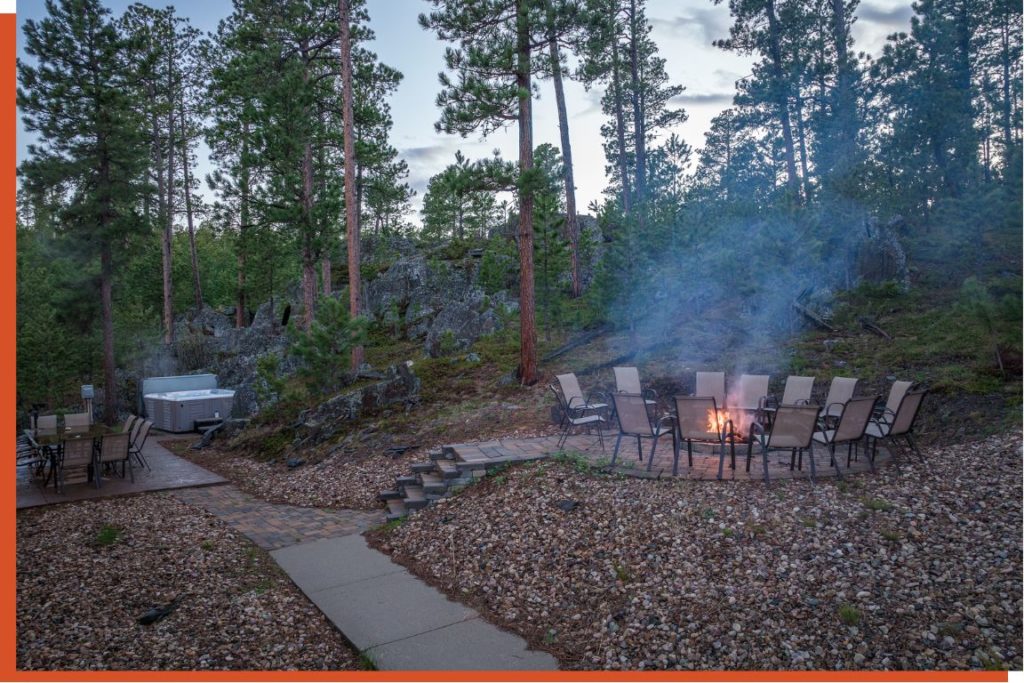 What is there to do?
Chop Your Christmas Tree
Our parents come out every year to explore, ATV, and choose their own wild Christmas tree. The permit is just $10 for a tree up to 20′ tall.
Snowshoeing
This is a great opportunity for a romantic date in solitude or fun with the kiddos. It's also a great workout. Some of our favorite areas for snowshoeing include Jewel Cave National Monument, Custer State Park, and the Black Hills National Forest.
Hit the Trails
Follow the Black Hills Nordic Ski Club for access to volunteer member groomed trails. Weather permitting, November can also be a great time to hike! Remember to start early in the day, stay hydrated, and bring extra layers. Here are our favorite hiking trails >>
R&R
Imagine a hot mineral pool with your friends, a beautiful backdrop, and the steam billowing around you. Moccasin Springs is a haven for soaking the stress away, followed by a great massage, and dinner onsite.
Eat Great Food
Believe it or not, the Black Hills host some great digs. In fact, celebrity Chef Justin Warner's Bokujo just aired on Diners, Drive In's, and Dives. It's best-described as cowboy ramen, perfect for a chilly day, and even has gluten free options. Here are our other favorite restaurants in the Black Hills:
Events in the Black Hills in November
Wednesdays – Trivia Night at Dakota Point Brewing, LLC
Saturdays – produce shopping at Black Hills Farmers Market
Sundays – Jazz Branch at Aby's Feed & Seed
Free Parks Pass
Experience Badlands National Park for free on November 11th.
1880 Train
Experience the magic that takes you from Hill City to the North Pole in one hour. There's hot cocoa and treats, plus Santa even stops to say hi. We recommend the 1880 Train for adults without kids, too. They sell beer onsite and didn't question the butterscotch Schnapps we added to the cocoa. 10/10.
Christmas Night of Light at Storybook Island
Bring the little ones to Storybook Island during the end of November or early December. It's a magical celebration with a train, carousel, and cocoa available.
Concerts in the Black Hills in November
There are always great acts traveling to this area. Keep an eye on the calendars for The Monument in Rapid City, The Deadwood Mountain Grand, Outlaw Square in Deadwood, Saloon #10 in Deadwood, or The Custer Beacon.
We hope to see you soon! Please let us know if you have any questions.