There's a quote by Jack Kerouac that says, "because in the end you won't remember the time you spent in the office or mowing your lawn, climb that mountain." He definitely was't wrong about that one. Thankfully, we live in a place where there are mountains to climb.
The Black Hills is home to an endless supply of world class granite. Custer State Park and Mount Rushmore National Memorial is filled with beautiful granite formations that holds some of the best rock climbing in the country. This area is nothing short of spectacular: the scenic drives, wildlife, and endless hiking trails. And my absolute favorite, Spearfish Canyon, which is a gorgeous canyon lined with steep slopes capped by bands of limestone. The rock quality tends to get better further up the canyon possessing some of the best stone you'll find anywhere.
Even though I feel like I spend most of my free time packing up my gear, clif bars, and heading out to the crag with my buddies and Boone, I still feel like there is so much I have yet to climb. The amount of climbing here feels infinite and I plan to keep exploring this beautiful place I get to call home.
How I started climbing.
Being from a small town east river South Dakota I never thought I would have taken up rock climbing. However, I fell in love with climbing a little over 3 years ago when a friend introduced me to the rock wall at my college wellness center. As friendships developed and I became a regular at the wall, I was enticed to join the climbing club. After a few competitions, climbing trips, and making some of my best friends, I could not stop dreaming of pinching crystals and stemming chimneys. Since then, climbing has been become my therapy and lifestyle.
There are many types of rock climbing – to name a few: trad-climbing, multi-pitch, ice climbing, free solo, sport climbing, and even bouldering can be considered rock climbing (even though some may disagree). I have dabbled in each of these minus free soloing, but only because I respect my mother's wishes. Haha. Currently, I have been absolutely stoked on trad-climbing and multi-pitch. Next up is ice climbing, as soon as I can afford some used crampons and mountaineering boots. All in all, I love how multifaceted climbing can be. It requires overcoming your fear of heights, understanding your climbing gear, working on your strength/technique, and most importantly your mindset.
Why do I climb?
Climbing in the Black Hills is not just a test of body strength to see if you can get up a rock. I promise.
Here are a few reasons why I climb:
To see the sun-rise before it does
To challenge my mental capability
To avoid the hum-dum dilly dally life
To experience the camaraderie of my dirtbag friends pushing our way to a summit
To allow the fear of danger to drive my adrenaline that keeps me going
To spend some time with myself
To drink the warm beer in my daypack when I reach the summit
To see a damn good view
To see if there is enough battery left in my headlamp for one more climb
And most importantly the people. The climbing community is the most diverse, accepting, positive, and comical group of people I have ever surrounded myself with. The amount of time you spend with your climbing crew (which is a lot if you are like me) the more you find out about yourself and them. And the more you know about your friends, the more inside jokes you get to make while hanging off the side of a cliff wondering why in the heck you even do this sport.
Where should you climb in the Black Hills?
The Hills have so many great places to climb – to name a few: Cathedral Spires, Victorian Canyon, Sylvan Lake, Wrinkled Rock, and Spearfish Canyon. You can expect a variety of sport, trad, and multi-pitch climbing routes (and ice climbing in Spearfish Canyon during the winter). If you haven't already, download the Mountain Project (MP) app on your phone to help you navigate to the routes you are looking for. If you have a guidebook, even better! Here are a few routes I have done in the past year that I suggest giving a go:
Wrinkled Rock Climbing Area has tons of great routes and you'll meet lots of other climbers out here.
Superb sport routes:

Valdez Overhang (Chopping Block) large holds and pumpy, and all of the FUN if you take a whipper!
Second Hand Rose Arete (South Seas) very nice ridge! unique, exposed, and just a great time
Dirty Earnie (South Seas) underrated on MP – WEIRD but fun moves!
Pointy Little Devil (Magna Carta)
Solitaire (South Seas)
Sylvan Lake/Cathedral Spires have some of the best routes and views in the Black Hills, in my opinion.
Worth your time trad routes:

Conn Diagonal (Sylvan) rope drag is inevitable/super fun traverse section end of second pitch
South Tower Conn Route (Spire 4) EXPOSURE on last pitch is great!
Spire 4 (there is a wormhole you climb through, try not to de-pants yourself)
Jan and Jane (Spire 2) my favorite and most recent multi-pitch
International Chimney (Spire 3)
Spearfish Canyon – Limestone = Best stone
Don't argue, just climb these:

Walking on Sunshine (Sunshine) combo of jugs, a crack traverse, and a roof crux!
Chalk Stoned (Mohican)
Cranium Crack (Blue Sky)

Pakistani Route (Sunshine)
Tasting Time (Blue Sky)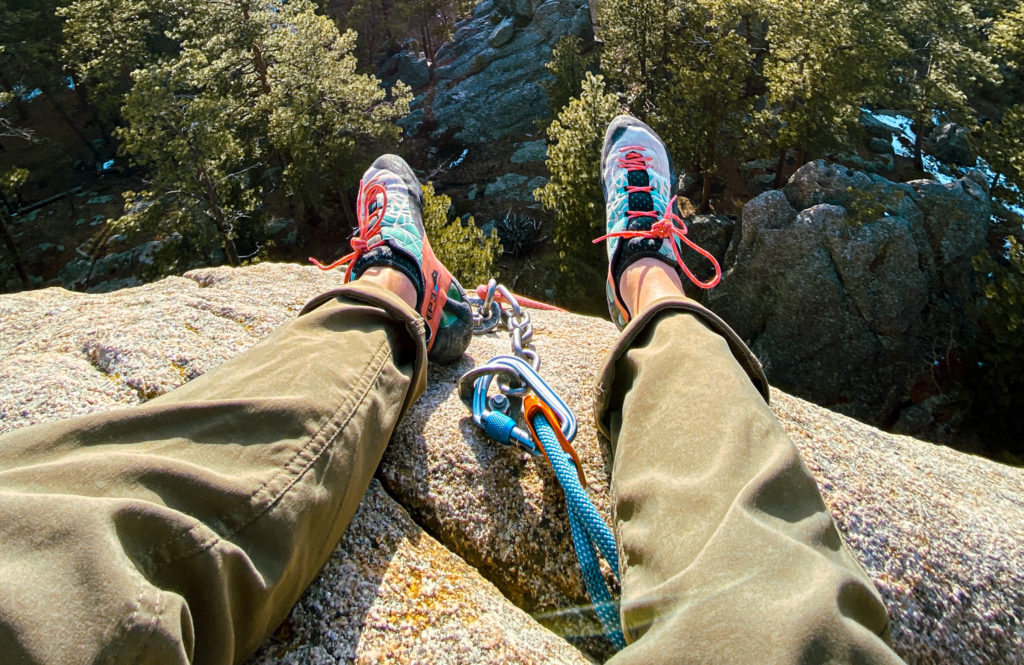 These places are unexpectedly wild and wonderful with some of my favorite climbs I have ever done. I can't say I haven't got lost out there, so I suggest navigating with MP the best you can and bring your headlamp. Service is non-existent most of the time depending on where you choose to go. But honestly, sometimes wondering aimlessly, bushwhacking through sketchy terrain and what is most likely poison ivy on the ground with my climbing friends, is just the recipe for a good memory. Feels good to be lost in the right direction, if that makes sense.
Post Climb Beers.
A cold beer or cider after a long day developing my freakishly strong fingers? Absolutely. Even though I spend most of the money I make on climbing gear, there's always room in my budget for a pint or two at my favorite local breweries. Check these out:
Lost Cabin (Rapid City) My go-to. Check out the ever-changing local artwork displayed on the walls
Zymocracy (Rapid City) try their NEIPAs!
Miner Brewing (Hill City)
Sick-n-twisted (Hill City)
Spearfish Brewing (Spearfish)
Get Your Gear Locally.
Support local and head to Roam'n Around downtown Rapid City, Granite Sports located on Main Street in Hill City, or High Mountain Outfitters and South Dakota Outdoor Shop in Custer. Let some friendly local faces help you start your climbing journey! I'm also an avid gear shopper at Backcountry or Rei.
Happy Climbing!
Cheers to avoiding the "hum dum" lifestyle. If you decide to get yourself a pair of climbing shoes and harness after reading this, I have done my job. However, I will leave you with this reminder: the mountains are completely unforgiving, impersonal, and answer to no higher authority. Please learn from an experienced climber before taking any risky adventures.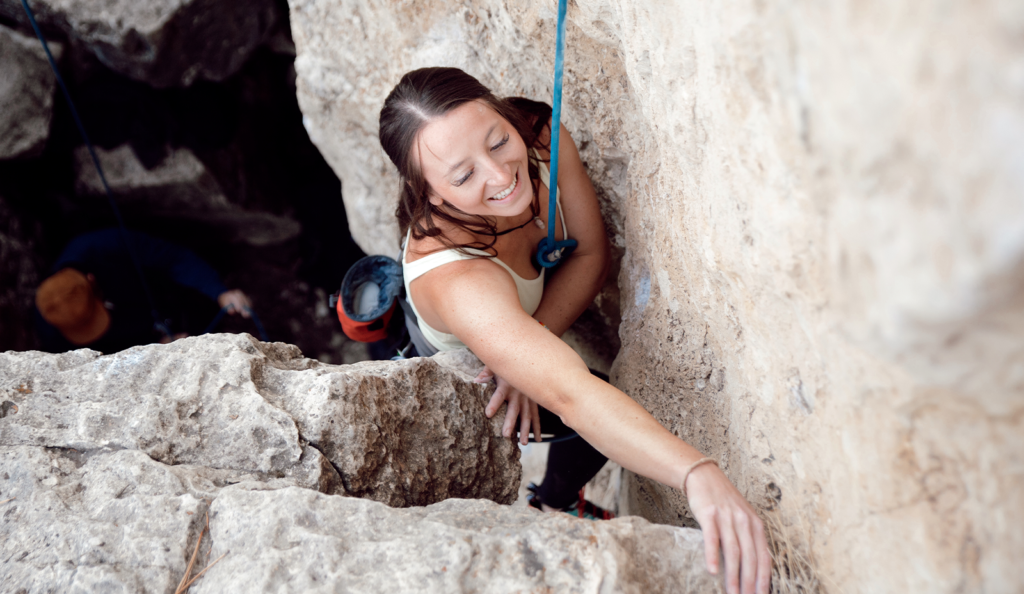 Love your local rocks and keep our crags clean!